Application for SMB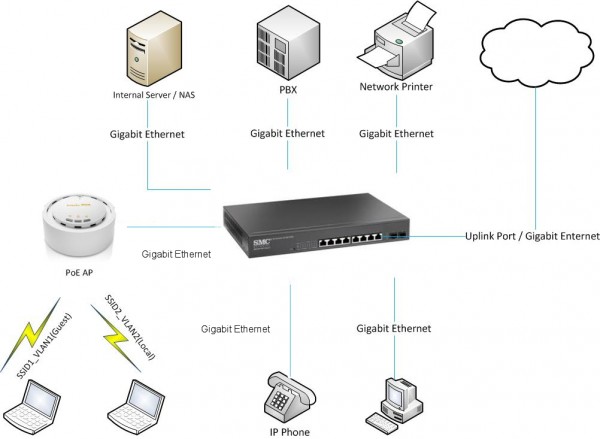 The application specializes in a 1~5 people SMB environment.
Up to 20 Gbps wire-speed switching performance and up to 14.9 Mpps forwarding rate across all 10 ports.
Up to 4K IEEE 802.1Q VLAN feature supports flexible network deployment. In the application, network administrators can easily separate public LAN and private LAN only in following few steps Quick Installation Guide.
Green Saving feature supports auto-detect link status and distance to best save power while maintain performance and stability with LED power reduction as well.
[Quick Installation Guide]
Step1.
port1: connect with PoE AP and join both VLAN1 and VLAN2
port2~4: configurate as VLAN1 for Internet
port5~7: configurate as VLAN2 for Local
port8: configurate as VLAN1 for Internet

Step2.
name VLAN1 as Internet and select VLAN members
name VLAN2 as Local and select VLAN members


Step3.
moniter Power over Ethernet status


Step4.
moniter MAC addresses learned from desired VLANs